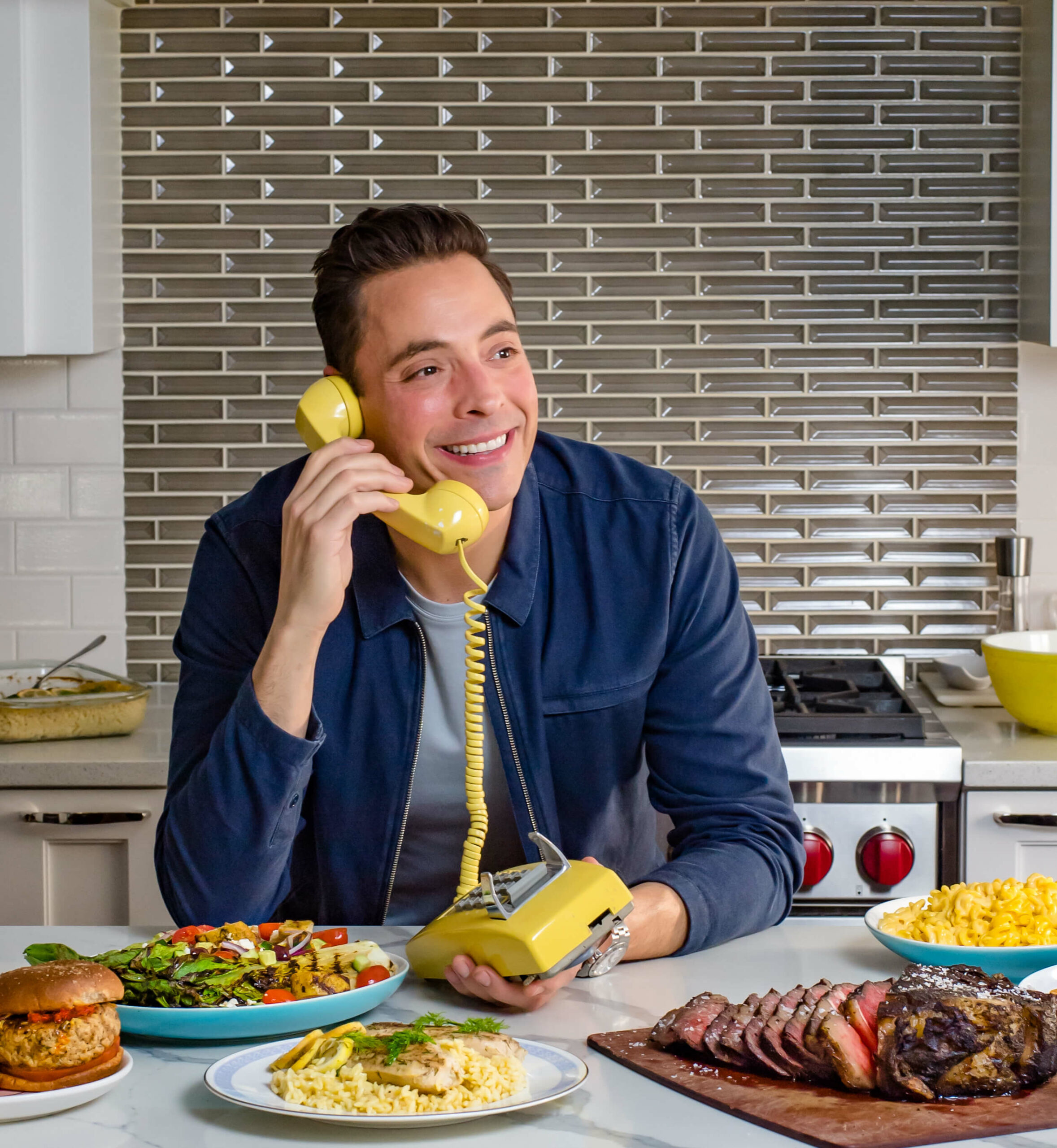 Jeff Mauro
Keynote Speaker
Emmy-Nominated Celebrity Chef, Jeff Mauro was born and raised in Chicago where he was determined from an early age to become the funniest chef in the world. After years spent cooking in restaurants, graduating with honors from Culinary School and performing on stage, he landed himself on Season 7 of the hit show Food Network Star. He ultimately won the competition by combining his passions for cooking with comedy and landed his own series, the Emmy-nominated Sandwich King. After five successful seasons to date, he was tapped by the Food Network to also co-host the hit daytime show, 4 time Emmy-nominated The Kitchen, now in it's 37th season.  Jeff is also a recurring co-host on Food Network's #1 Prime Time show Worst Cooks in America as well as the host of the new Prime Time Game Show Kitchen Crash.
Jeff is also the proud founder and CEO of Mauro Provisions, a premium retail, wholesale & direct-to-consumer line of steaks,  the world's best craft giardiniera (jar-din-air-ah), craft rubs & legendary sandwich kits.  He has been a guest co-host of The Today Show and featured on Late Night with Jimmy Fallon, Steve Harvey, Good Morning America, CBS This Morning, Chopped and Beat Bobby Flay among many others. He also hosts the hit weekly podcast Come on Over with his little sister Emily as well as the author of the best-selling cookbook Come on Over.
He still lives "in the same damn neighborhood he grew up in" with his wife Sarah, his son Lorenzo & their two dogs JoJo & Pinot G. Jeff spends his free time playing lead guitar and singing in his neighborhood dad-band called The Jewel Bags. He releases steam by boxing, playing disc golf and tossin' bags in the frunchyard with a cold-one his hand.
His favorite color is Pastrami and his favorite smell is meat smoke.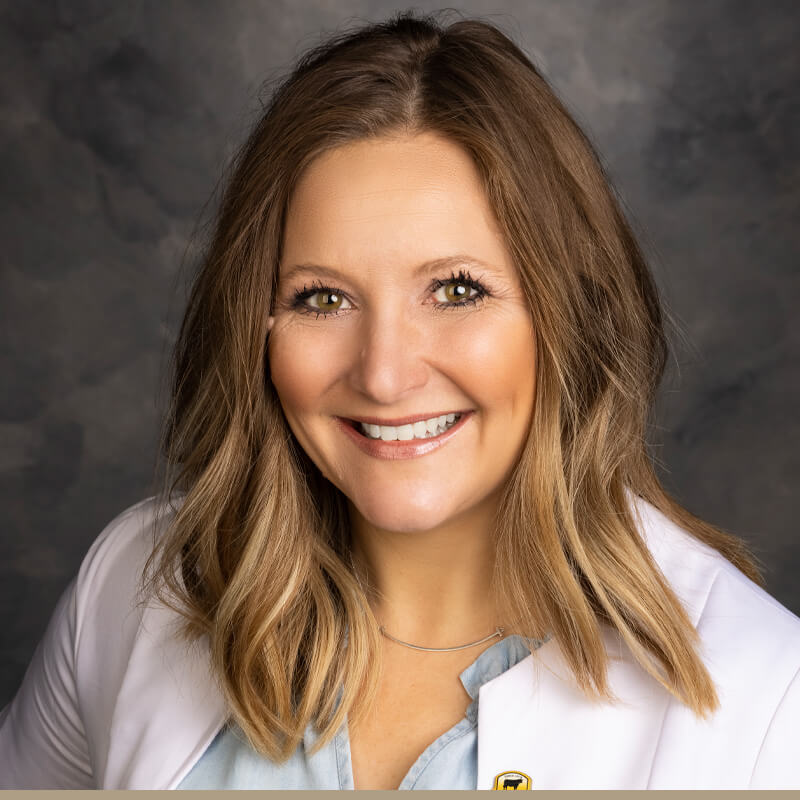 Sara Scott
Vice President, Foodservice
Certified since 2007
Sara oversees everything from chain development to cultivating key strategies for growth and delivering educational solutions to advance partners' presence in the marketplace.
"I love being able to connect people from gate to plate, to serve as the bridge between our cattlemen and our end-users."
Steve Ringle
Executive Vice President, Business Development
Certified since 2001
Steve leads strategic planning, customer development and the pursuit of new foodservice, retail, manufacturing and international business, with a focus on increasing customer success and optimizing product availability.
"I love that I work for a brand that brings people together and helps them to be successful. It is rewarding to know that working with our licensee base to build demand positively affects the lives of family farmers and ranchers raising quality Angus cattle."
Anthony DiBernardo
Pitmaster and Owner, Swig & Swine BBQ
Opened Swig & Swine in 2013
With his 25-year culinary background and deep-rooted BBQ passion, Anthony has led Swig & Swine to become a fast favorite among enthusiasts worldwide with mouthwatering meats from prime beef brisket and whole hog, to house-made sausage and ribs.
"I absolutely love barbecue because it's the ultimate food to bring people together."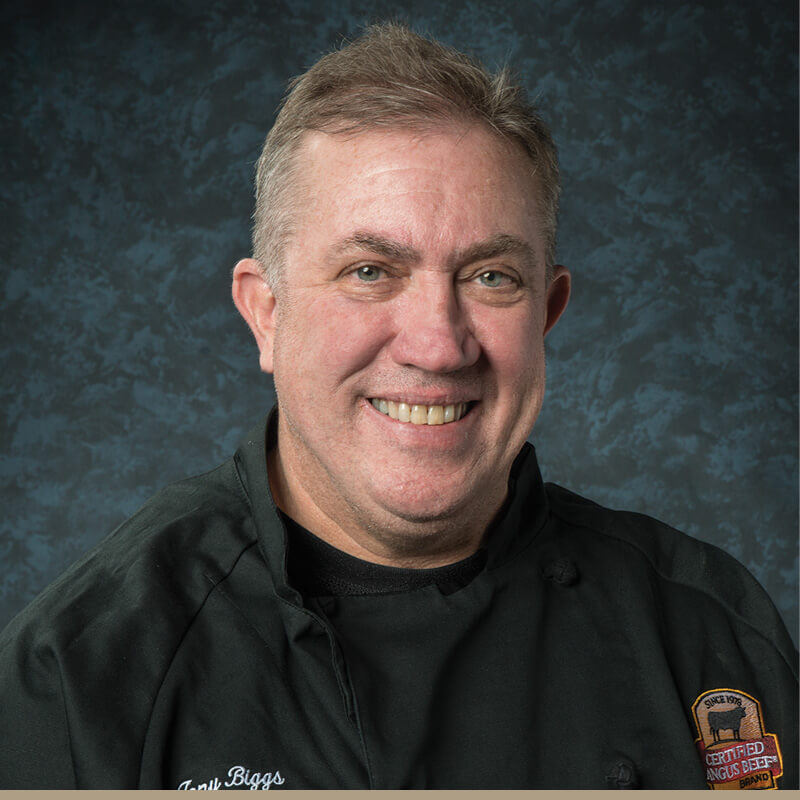 Chef Tony Biggs
Director, Culinary Arts
Certified since 2014
Chef Tony sets culinary vision for the brand and The Culinary Center and elevates the brand's presence on the plate and relevance to chefs and restaurateurs worldwide through innovation and media appearances.
"Working for the brand allows me to be as creative as I want to be. The meals my team and I prepare are the result of the brand trusting us to serve the best-in-class experiences for our guests."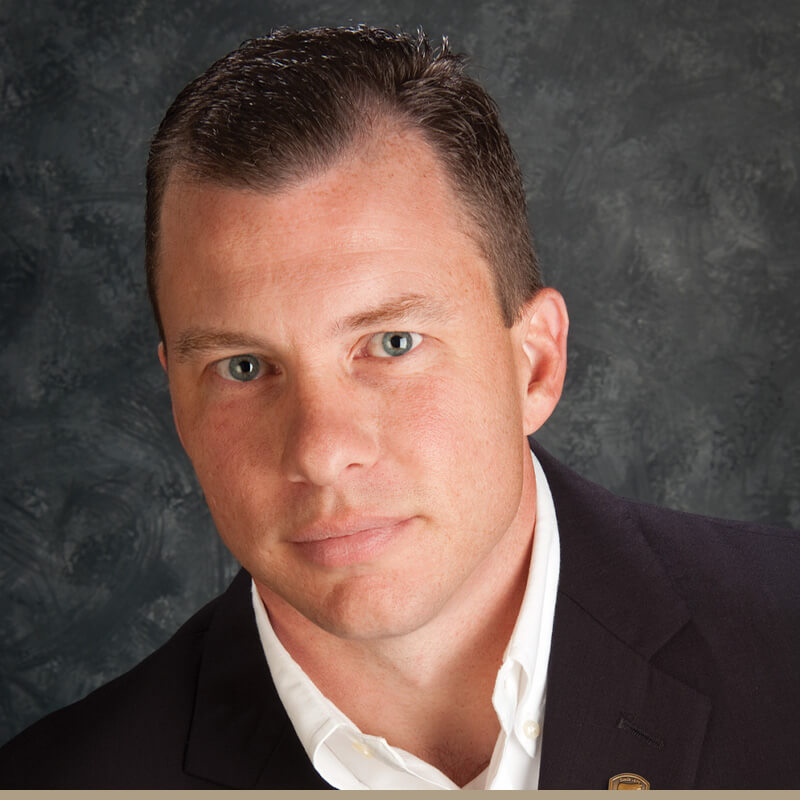 Clint Walenciak
Vice President, Product Services
Certified since 2000
Clint leads communications with the USDA to uphold the brand's quality certification, and provides partners with product availability forecasts and market trends to guide their business decisions.
"The best parts of working for the brand are the quality it represents and the opportunity to work with the dedicated people across our community."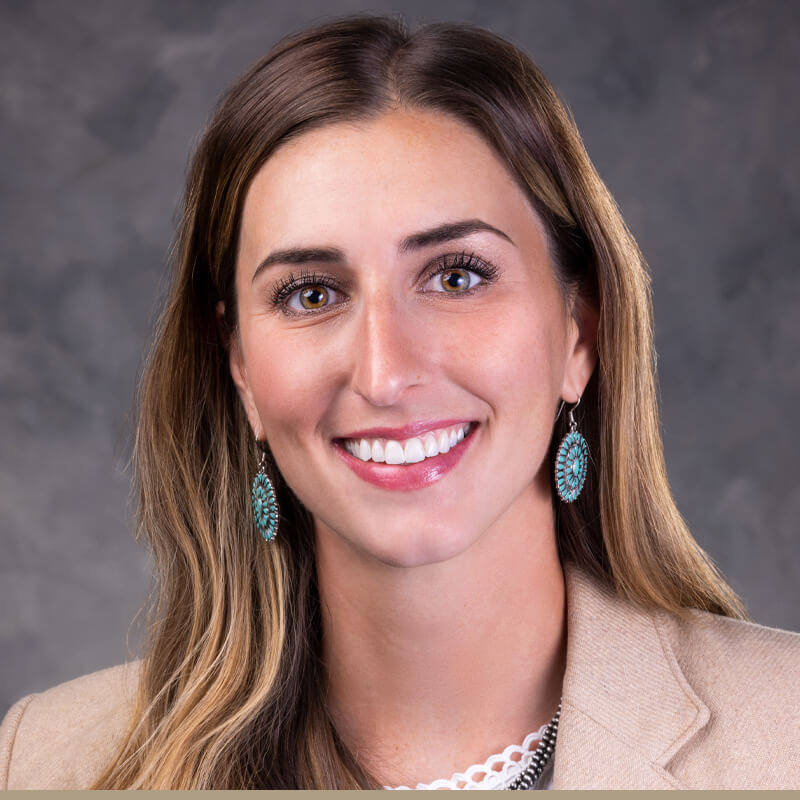 Kirsten Nickles
Sustainability & Animal Care Scientist
Certified since 2022
Kirsten leads sustainability and cattle care initiatives, and serves as a technical expert to positively influence the future of beef production while also communicating successes in these areas with consumers.
"Decisions we make today affect the many family farms and ranches, including my family's, making up the beef industry. I love getting to play a part in those decisions, all while sharing our producers' success stories with consumers."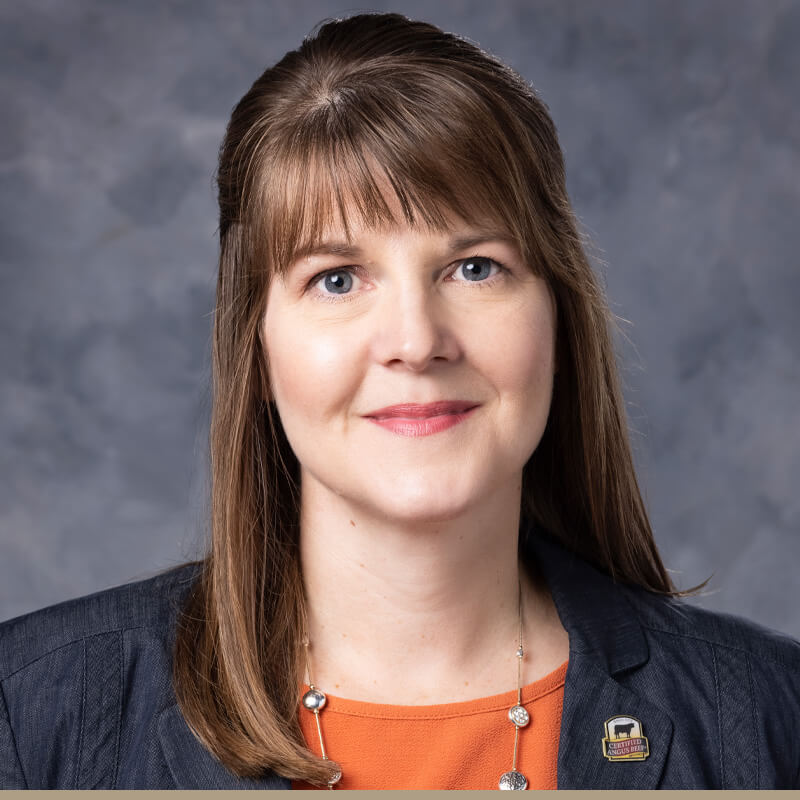 Deanna Walenciak
Vice President, Domestic Brand Marketing
Certified since 1996
Deanna leads the areas of customer marketing solutions, brand experience and the Culinary Center with a passion to engage and elevate partners and help them maximize the power of the brand.
 "It is energizing to see the momentum build and innovation explode with our partners at the Culinary Center, events and today online around a shared passion to market the best Angus beef."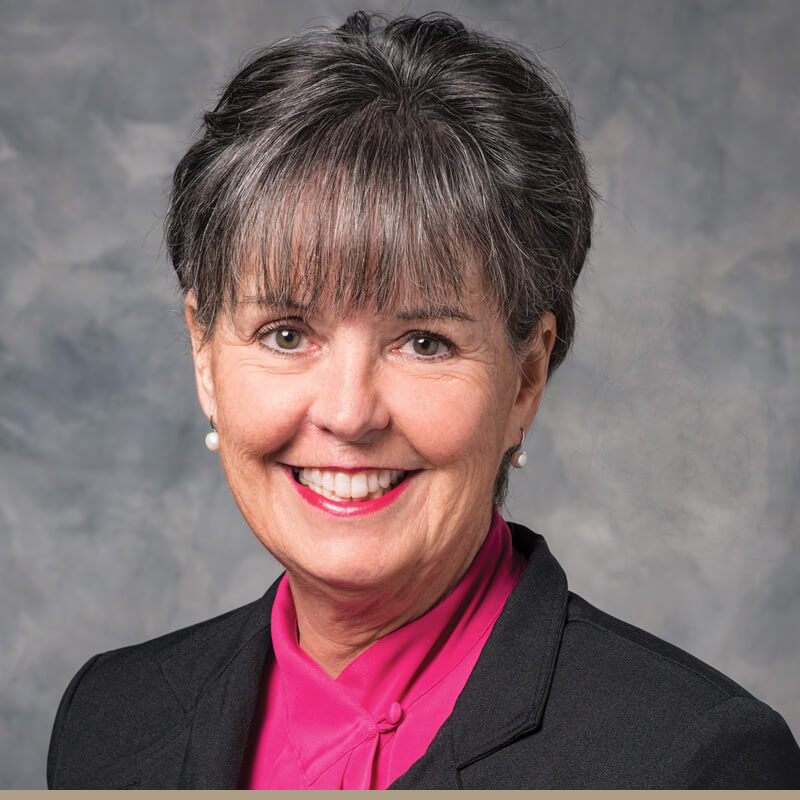 Barb Burd
Senior Brand Manager
Certified since 2007
Barb leads trainings and provides marketing support to retailers and restaurateurs in the Southwestern United States and Hawaii. She also shares her many years of experience with new brand managers, helping them better support their partners.
"I absolutely love the culture here, from the inside out. Everyone is willing to help one another, including staff in the office and our partners all over the world."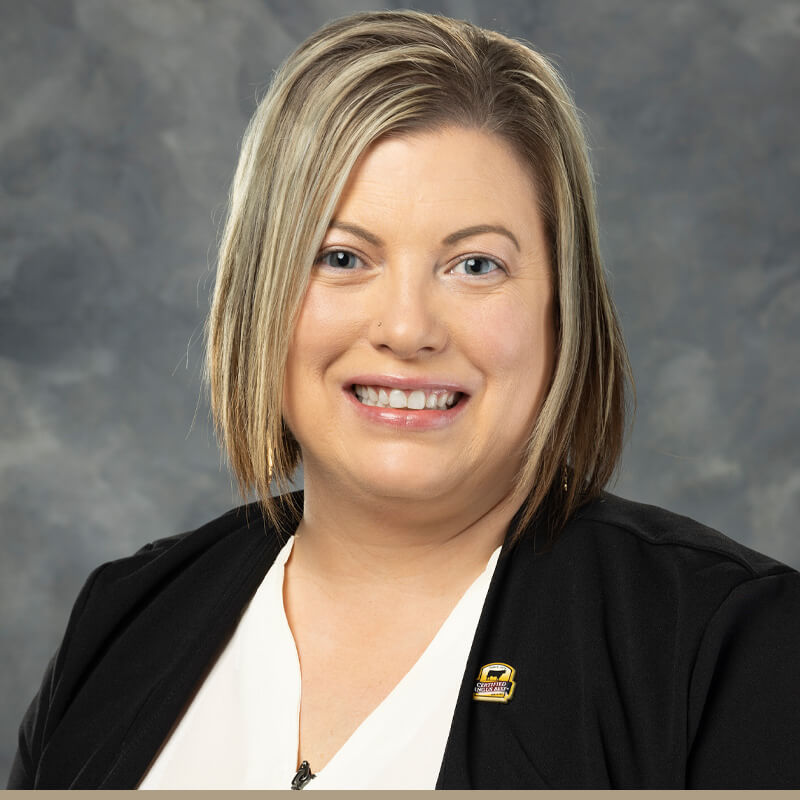 Beverly Linhoss
Account Marketing Manager
Certified since 2021
Beverly helps foodservice and retail partners reach their marketing goals by connecting them to the right tools and resources for their businesses.
"I love every aspect of my job, but working with independent retailers and hearing their stories has a special place on my to-do list."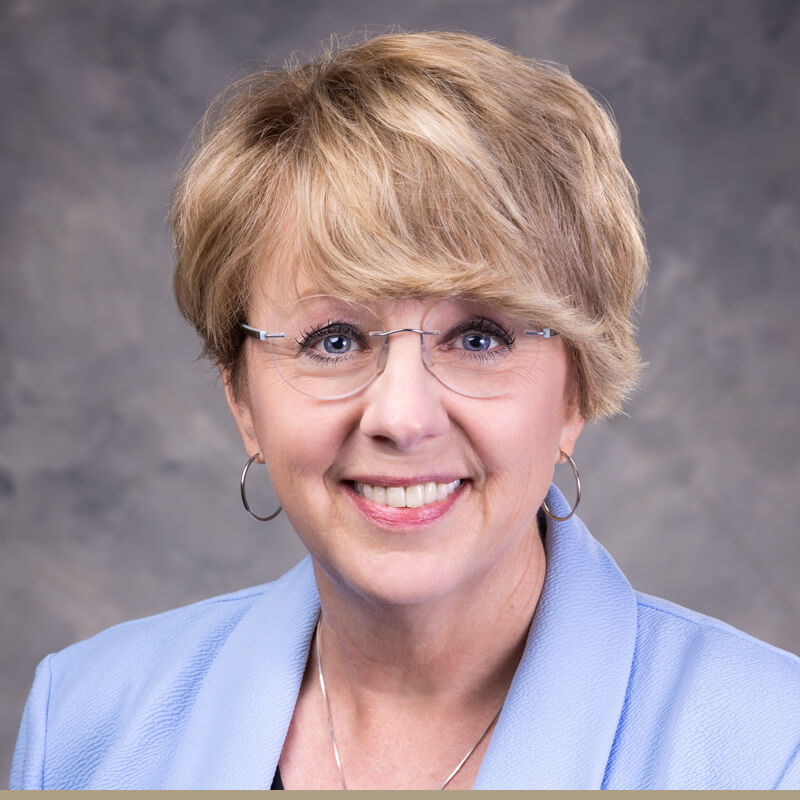 Leah Ryneer
Account Marketing Manager
Certified since 2022
Leah supports partners with marketing, training and product solutions to help them succeed and grow their businesses.
"My favorite part about my job is the variety of partners I get to interact with and being able to help them grow their beef businesses."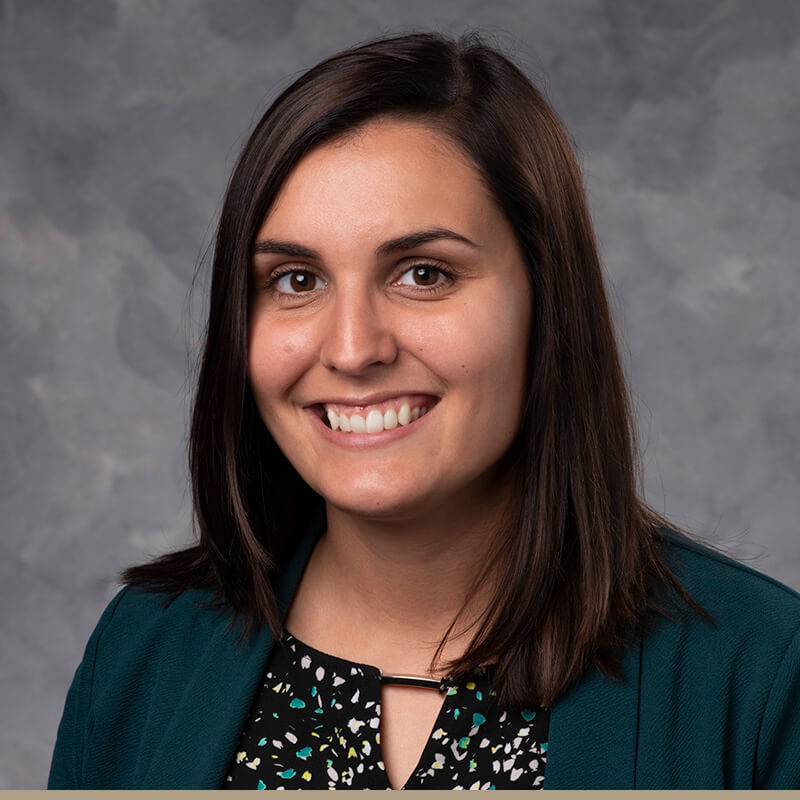 Brianna Gwirtz
Manager, Marketing
Certified since 2018
Brianna works with foodservice, restaurant and independent meat company leadership to create resources and drive initiatives for partners' continued success with the very best beef.
"Since I was a child participating in 4-H and FFA, I knew I wanted to work in the agricultural industry. I'm glad I made that dream come true with Certified Angus Beef ."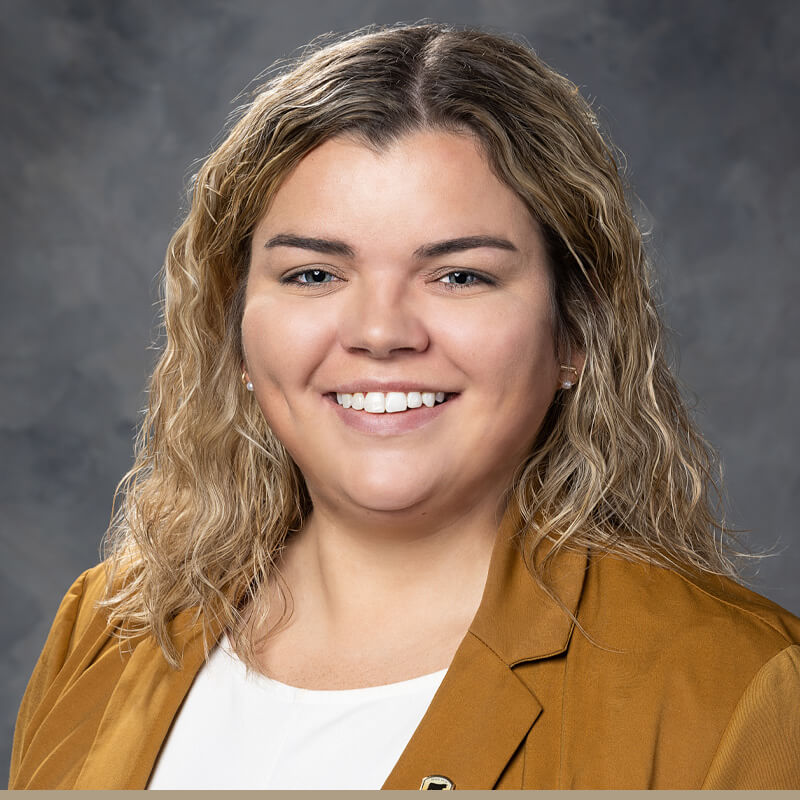 Paige Clayton
Associate Account Marketing Manager
Certified since 2018
Paige assists partners with countless marketing tasks, so they can better promote and sell the Certified Angus Beef ® brand and fulfill customer needs.
"I love working with partners from all areas of the business and from all parts of the world. They are so passionate about what they do, and that passion fuels me and my team."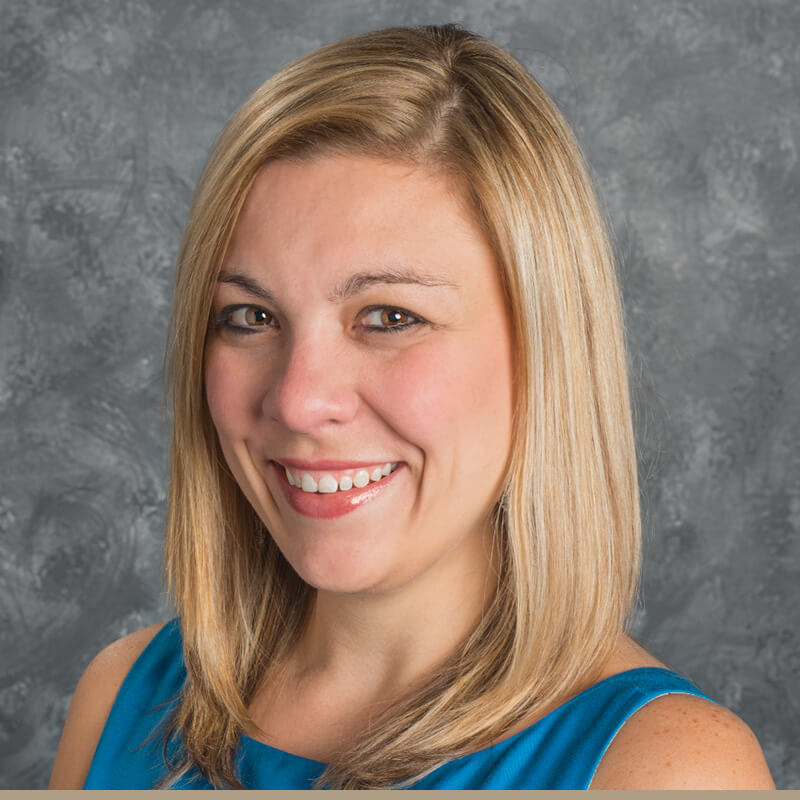 Kelly Murray
Director, Restaurant Development and Partnerships
Certified since 2013
Kelly leads restaurant partnerships and prospective partner outreach, working to cultivate brand champions and engage them with profitable menu, marketing and training solutions.
"Our partners, particularly restaurant operators, are some of the most resilient people. Even when they have a tough year, we continue to hear of their fortitude. I'm confident they will forge ahead stronger than ever because that is just who they are: leaders who don't quit."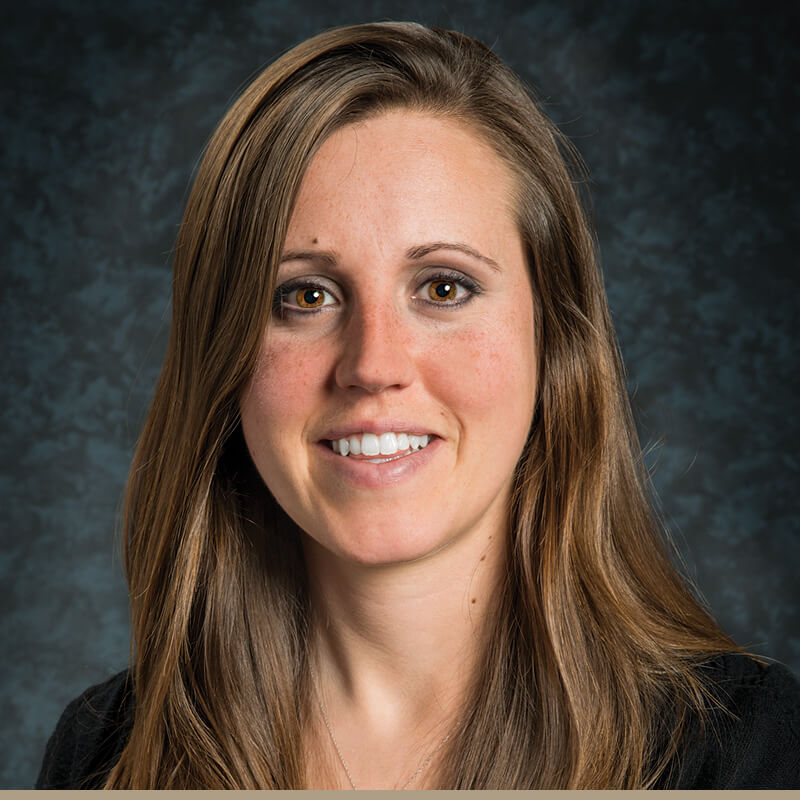 Diana Clark
Meat Scientist
Certified since 2015
Diana sparks innovation on the plate at The Culinary Center to help distributors, chefs and retailers identify profitable, best-performing cuts, and cultivates consumer and chef research to steer partner success.
"I love experiencing meat and developing relationships with people from all over the world. Through different backgrounds, languages and experiences, we come together around a side of beef."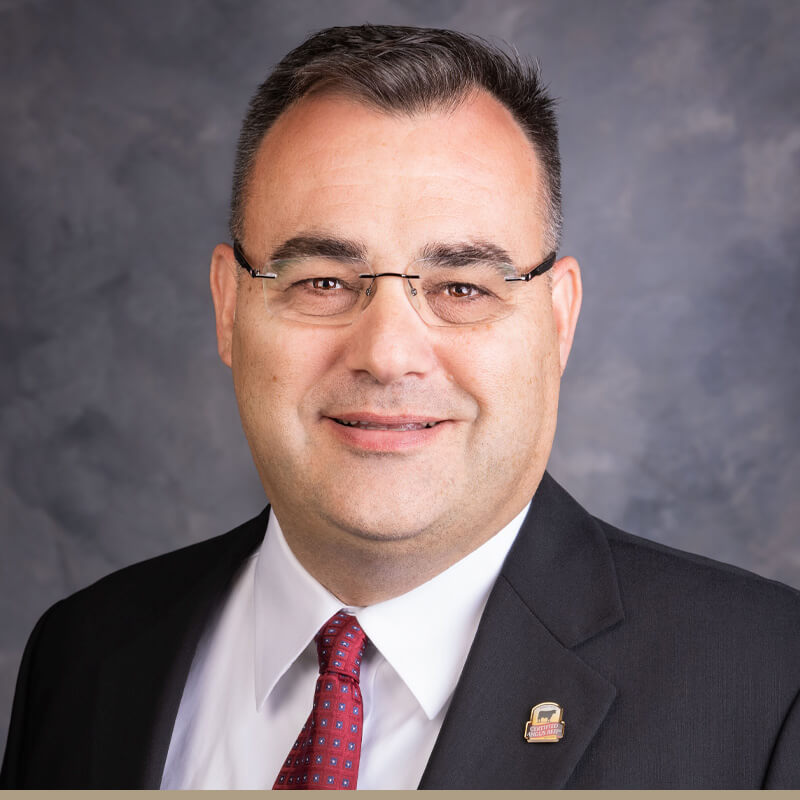 Kurt Brockhaus
Executive Account Manager, North-Central
Certified since 2017
Kurt works closely with foodservice and retail customers to bring great-tasting beef to the table. He enjoys helping accounts succeed through real-life experiences that bridge the gap between purchasing, pricing and marketing.
"I can only sell something I totally believe in, and the brand's integrity and quality make it the only product I want to sell."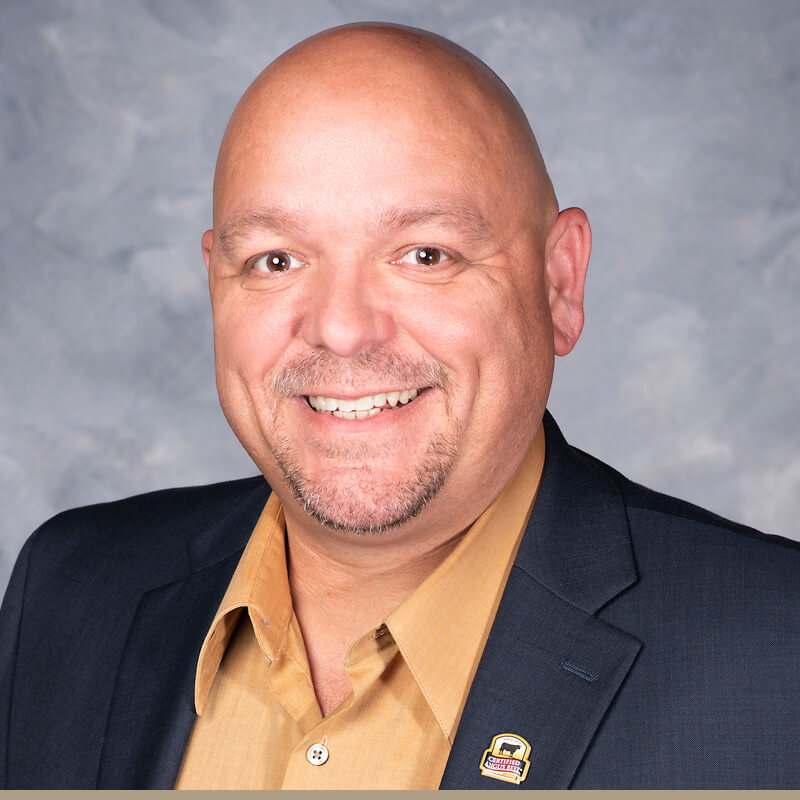 Vern Rose
Executive Account Manager, Southeast
Certified since 2019
Vern Rose assists retailers in the Southeastern U.S. with merchandising tactics and marketing, so shoppers enjoy the very best Angus beef at home.
"I enjoy building relationships with customers and being a part of Certified Angus Beef®. Working here is like being a part of a big family you can trust."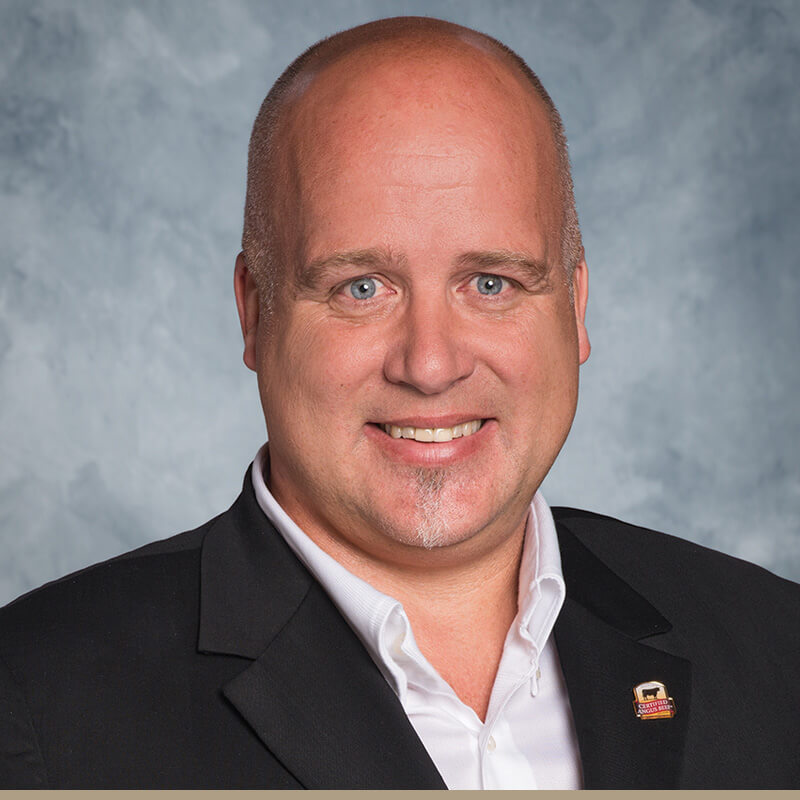 Martin Lemoyne
Director, Canadian Business Development
Certified since 2017
Martin leads training, marketing and consultation services with foodservice and retail customers, while connecting with ranchers, packers and processors, to build trust in the brand and our partners across Canada.
"I enjoy working with our team and customers to create a competitive edge, one built on trust and loyalty to the No. 1 brand of beef in the world."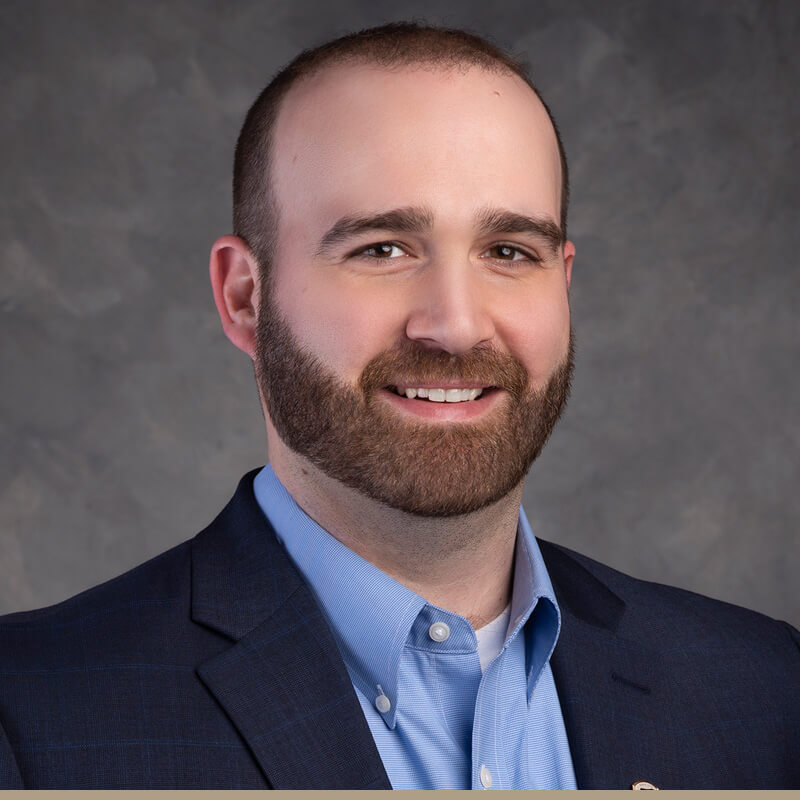 Ken Eifrid
Executive Account Manager, Mid-Central
Certified since 2019
Ken thrives on talking shop with chefs, answering questions at the meat case, and helping partners to promote and merchandise their branded products successfully.
"You have to be motivated to sell, and the Certified Angus Beef ® brand provides that genuine excitement. It makes authentic salespeople, and that's why it was an easy decision for me to work here."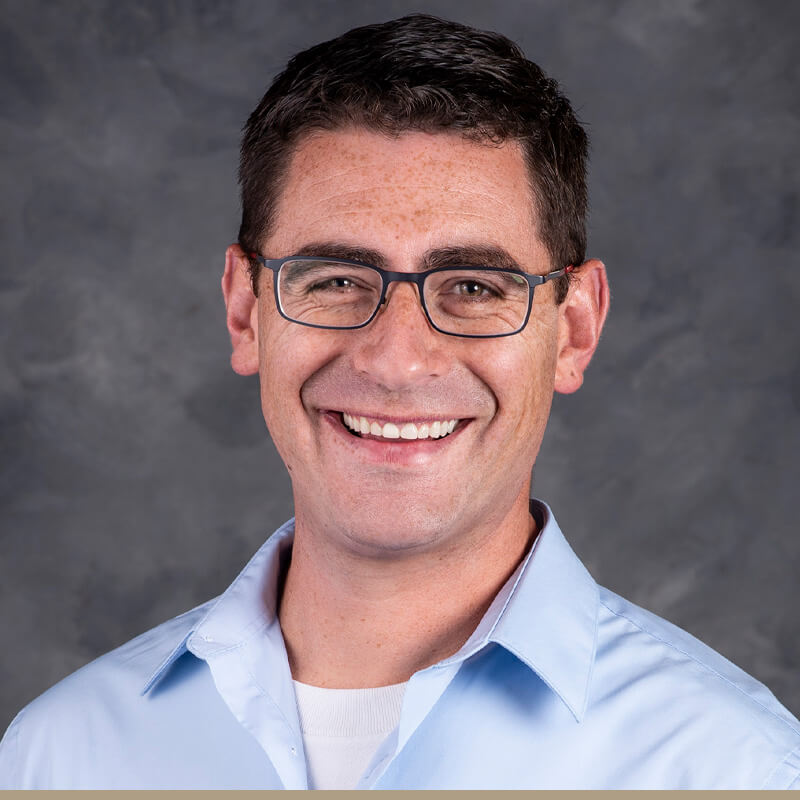 Daniel Clark
Ph.D., Meat Scientist
Certified since 2019
Daniel advances distributor, chef and retailer knowledge of the brand's quality through beef fabrication at The Culinary Center, and guides research initiatives to ensure consistently superior product performance.
"I enjoy my job—the research and education piece. Putting the two together with our partners sparks innovation and conversation. It's really the people and their willingness to learn that make it fun."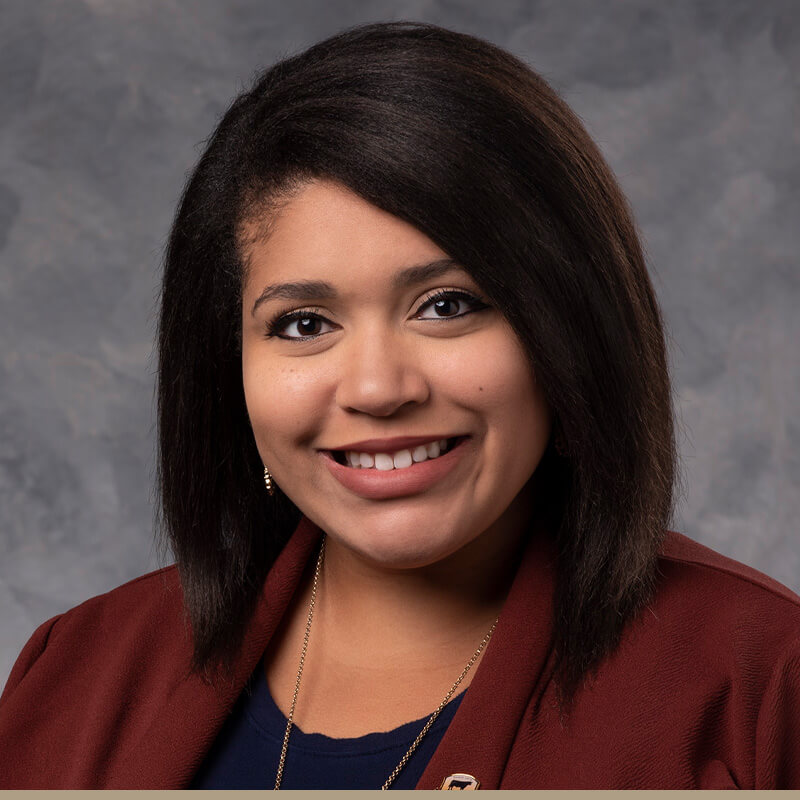 Drianna Lewis
Associate Manager, Prepared & Packaged Marketing Services
Certified since 2016
Drianna develops marketing plans, creates labels and sell sheets, and assists value-added product processors with promoting their new and existing products.
"I love having the opportunity to work in such a unique area of our business. Value-added products are growing and I'm thankful to work closely in supporting our processors on elevating their products."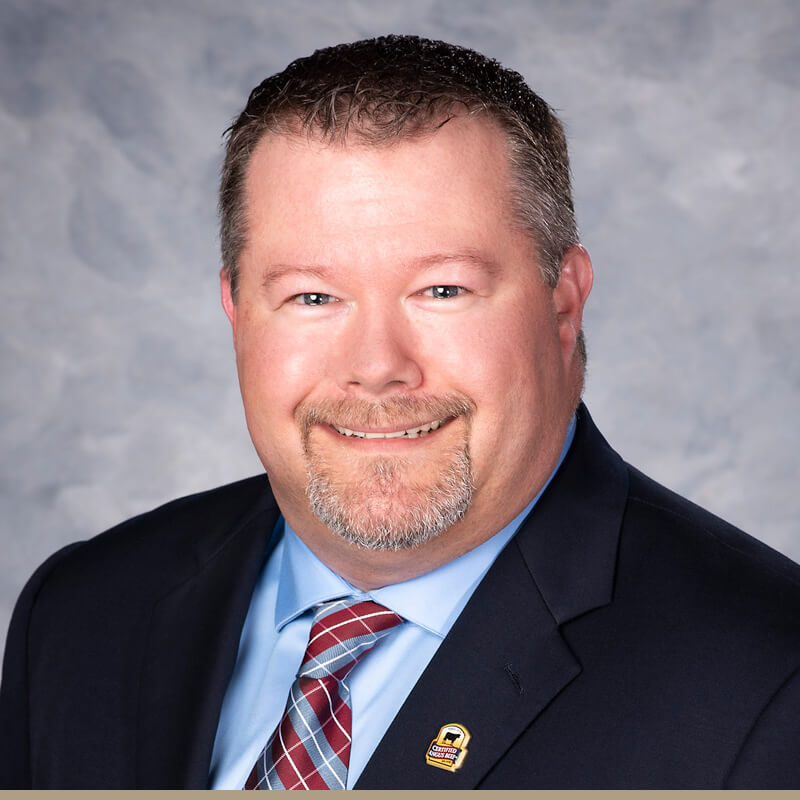 Mike McReynolds
Executive Account Manager, South Central
Certified since 2019
Mike puts education first to ensure partners understand the brand's mission while also leading foodservice and retail customers to achieve marketing, merchandising and sales success.
"I love the educational side of my job and helping people understand the importance of the beef community."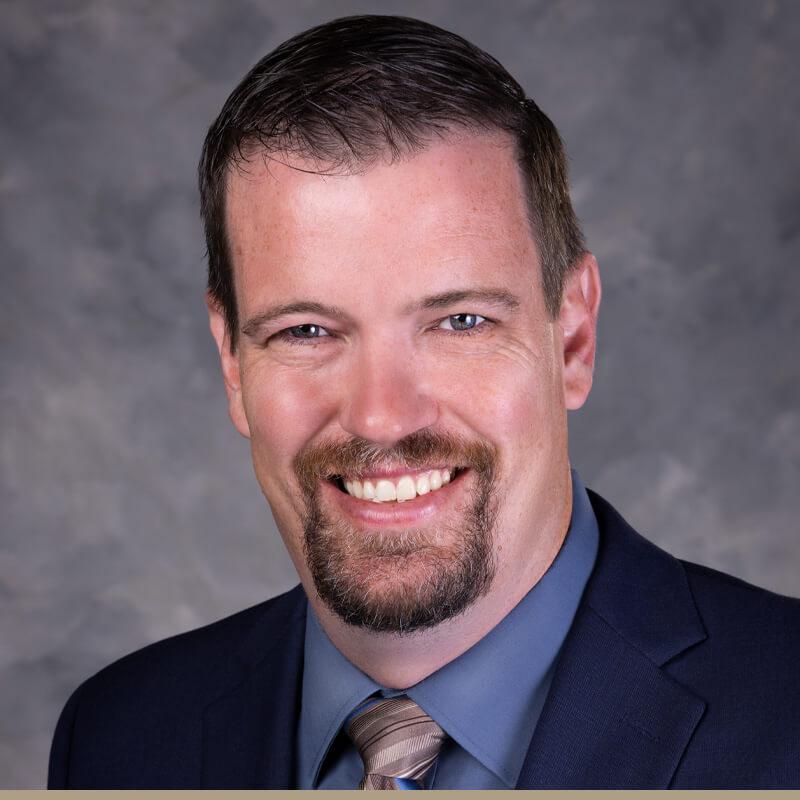 Neil Johnson
Executive Account Manager, Northwest
Certified since 2022
Neil helps partners grow their Certified Angus Beef ® sales by providing education, resources, and motivation to promote and protect the very best beef.
"Interacting with partners makes my job so exciting, and I'm motivated every day by the hardworking farming and ranching families we get to support."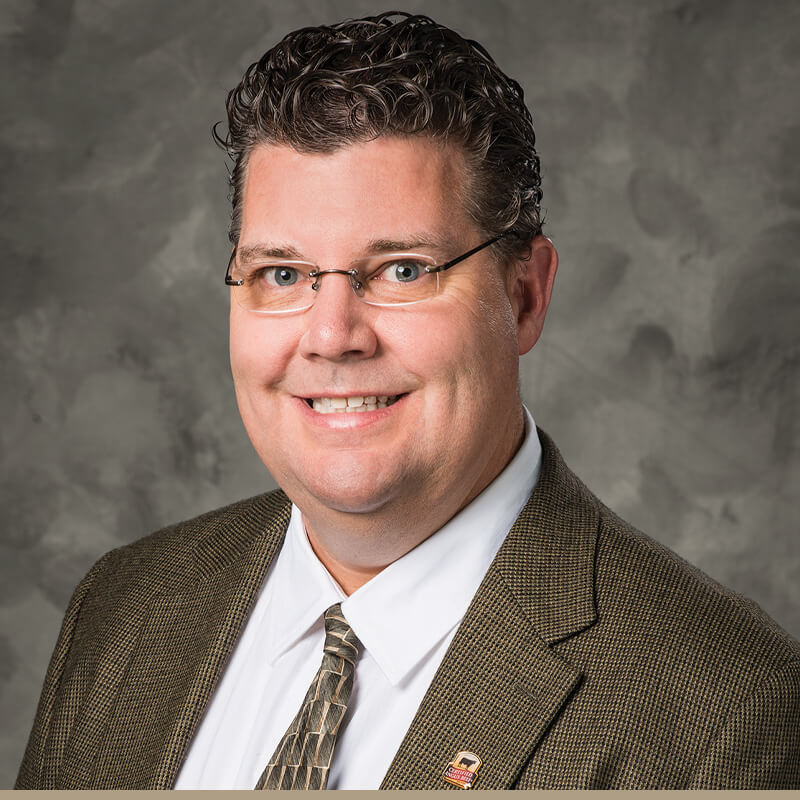 Wes Zimmerman
Executive Account Manager, Midwest
Certified since 2017
 Wes brings years of sales experience to foodservice distributors, restaurants and retailers with a constant focus on advising them to be increasingly successful. He enjoys training sales staff, breaking it down in the Meat Lab and sharing ranch stories.
"My promise to North American farm and ranch families is simple: if you dedicate your life to raising high-quality, Angus-influenced cattle that meet Certified Angus Beef® standards, I'll dedicate my career to ensure every pound you produce is sold."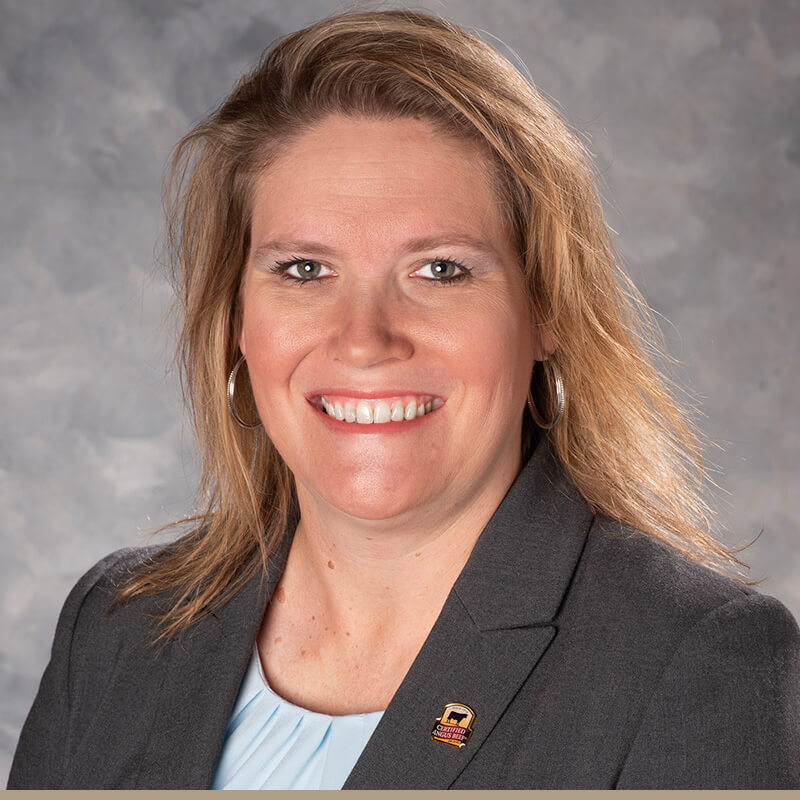 Amanda Barstow
Director, Brand Engagement
Certified since 1995
Amanda leads creative, proactive strategies to welcome new partners and set them up for success through branding and trademark use on menus, in stores, on materials, in media and beyond.
"I love the authenticity of the brand—from its science-based specifications and grassroots beginnings to its global reach today. There's an energy in our community that promotes positivity and continuous improvement."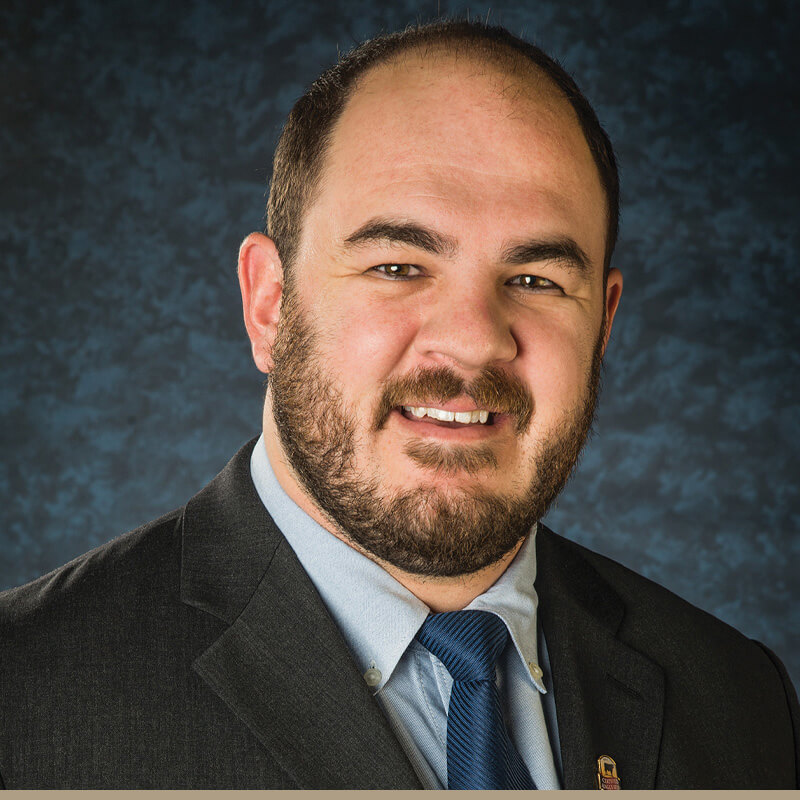 Cody Jones
Vice President, International
Certified since 2015
Cody cultivates market-driven strategies that strengthen the success of international partners, growing brand awareness and customer loyalty for their businesses worldwide.
"When I think about how many great partners form their business and marketing strategies around the Certified Angus Beef® brand, it reminds me we are partnered with the best, most passionate people in the industry."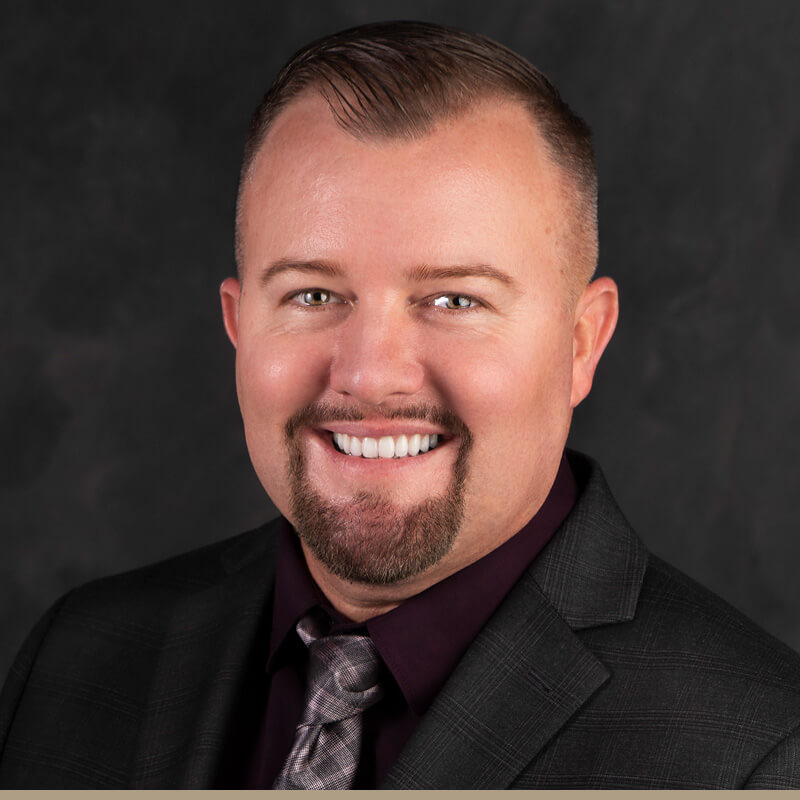 Chad Aldridge
Executive Account Manager, Western
Certified since 2020
Chad helps partners grow customer loyalty for the best beef, and shares marketing, merchandising and educational strategies for greater sales success.
"I love educating people and promoting the brand on behalf of beef producers. It's more important now than ever to help partners and consumers know they're eating the best beef raised by the best people."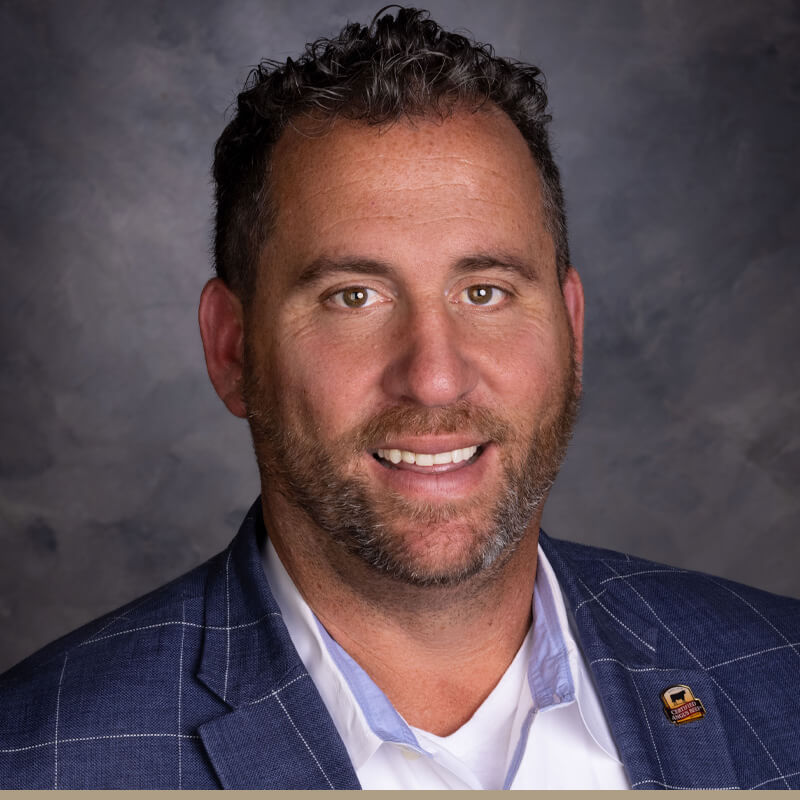 Jeff Vinacco
Executive Account Manager, Northeast
Certified since 2016
Jeff's more than 20 years of experience comes in handy as he's developing merchandising solutions, marketing strategies and training programs to build licensees' success with great beef.
 "I find working with people I know and understand from my many years in the food business so enjoyable. I just love talking to customers and helping them drive business"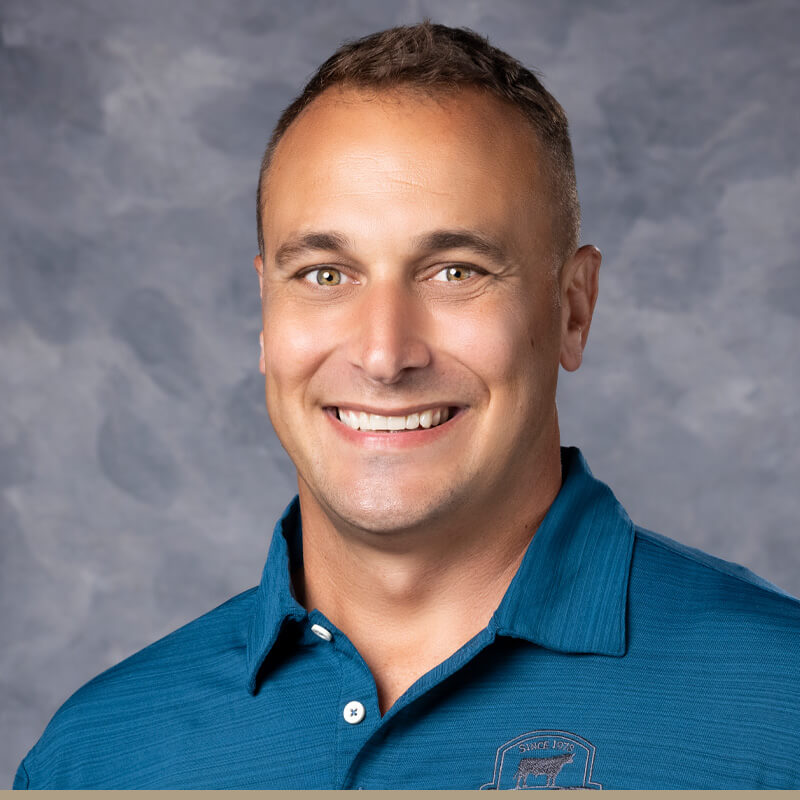 Josh Ennis
Executive Account Manager, Southeast
Certified since 2021
Josh uses his three decades of foodservice experience to help chefs, meat case managers and sales representatives promote the very best beef and answer questions from their customers
"I look forward to working with partners and helping brand specialists find their passion for the brand. I had a lot of great role models when I was a specialist, and so I hope to be one to others."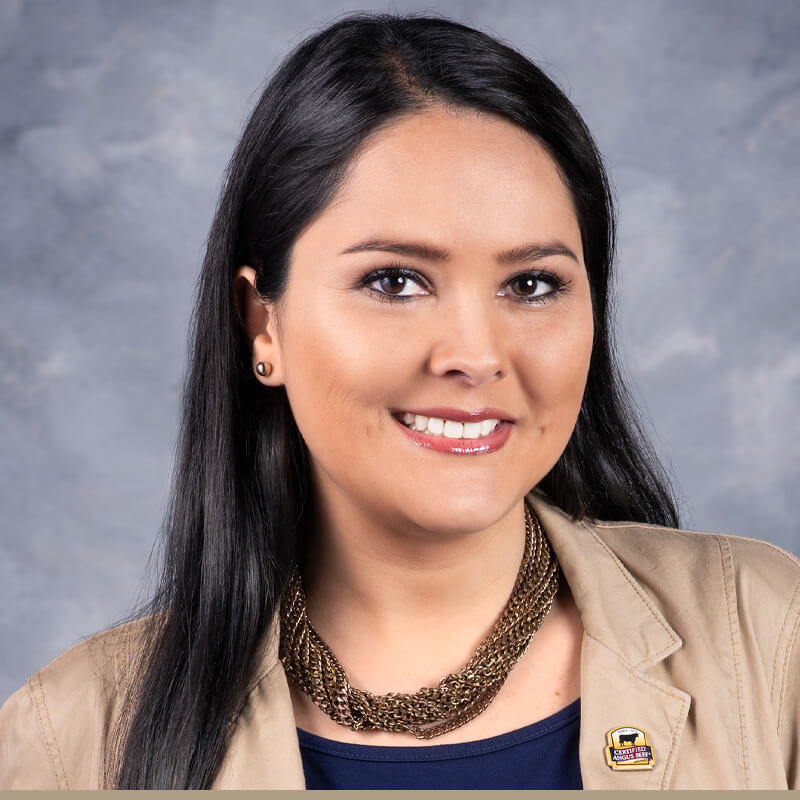 Maria "Mafe" Baez
Assistant Director, Latin American & Multicultural Marketing
Certified since 2019
Mafe uses her experience to support global and domestic brand partners in their efforts to promote the best beef.
"I enjoy interacting with Latin American partners, helping them create ways to promote the brand in their own countries and in their own languages."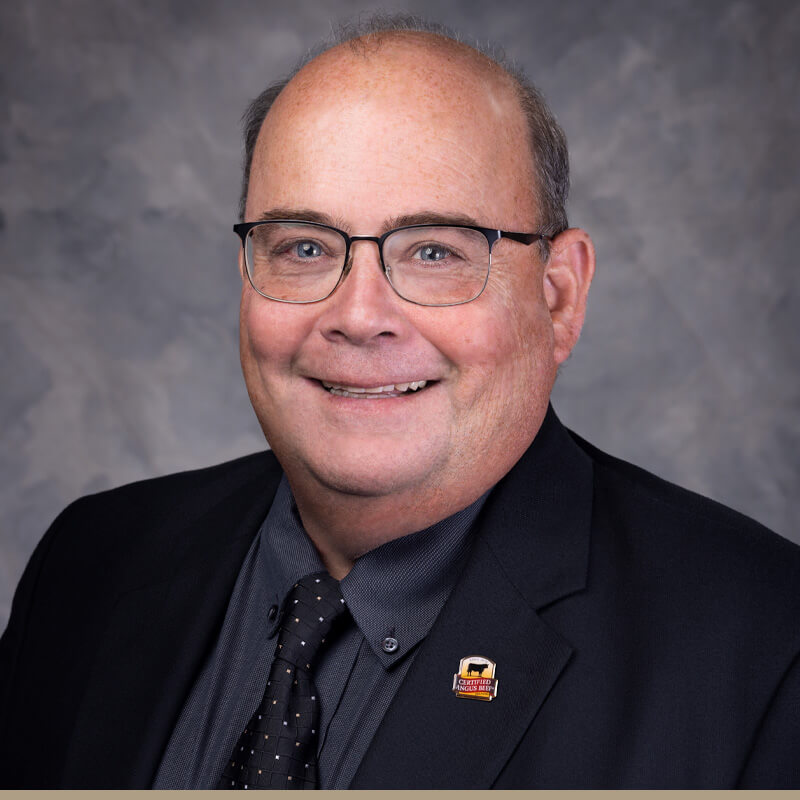 Frank Eagan
Executive Account Manager, Northeast
Certified since 2011
Frank works with foodservice distributors and retailers to select the best options for their businesses while supporting their marketing initiatives.
"You have to be able to promote a product in order to sell it. With the Certified Angus Beef® brand, that's simple."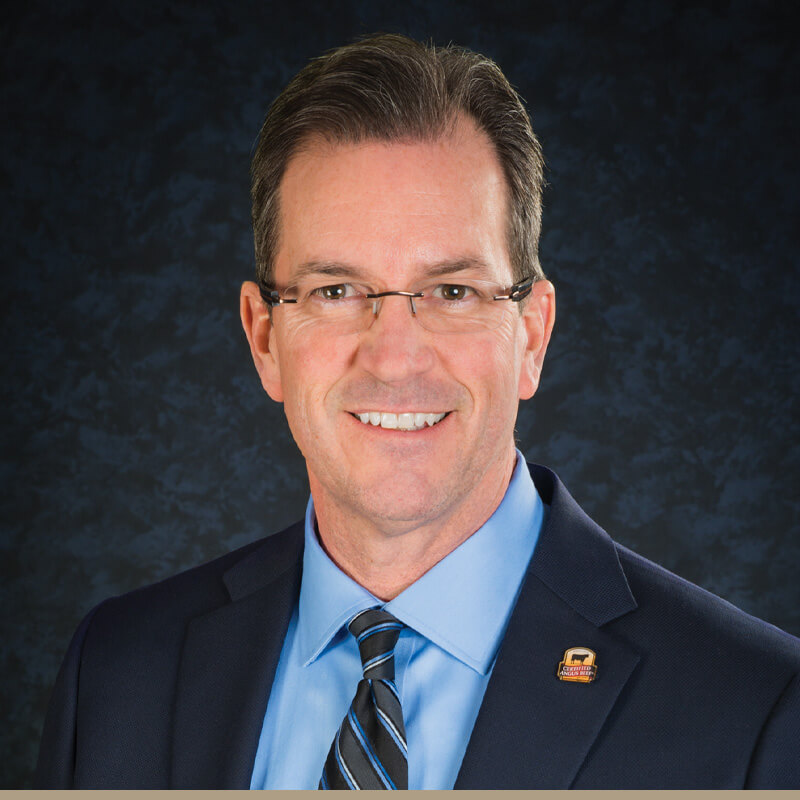 Blake Dickson
Executive Account Manager, East Coast
Certified since 2014
Blake provides sales, marketing and training to meet the needs of foodservice businesses along the East Coast. His experience as a chef and center-of-the-plate specialist helps him provide the best advice and resources.
"I've been selling Certified Angus Beef ® products since 1987. My time with the brand has been the pinnacle of my career as a meathead."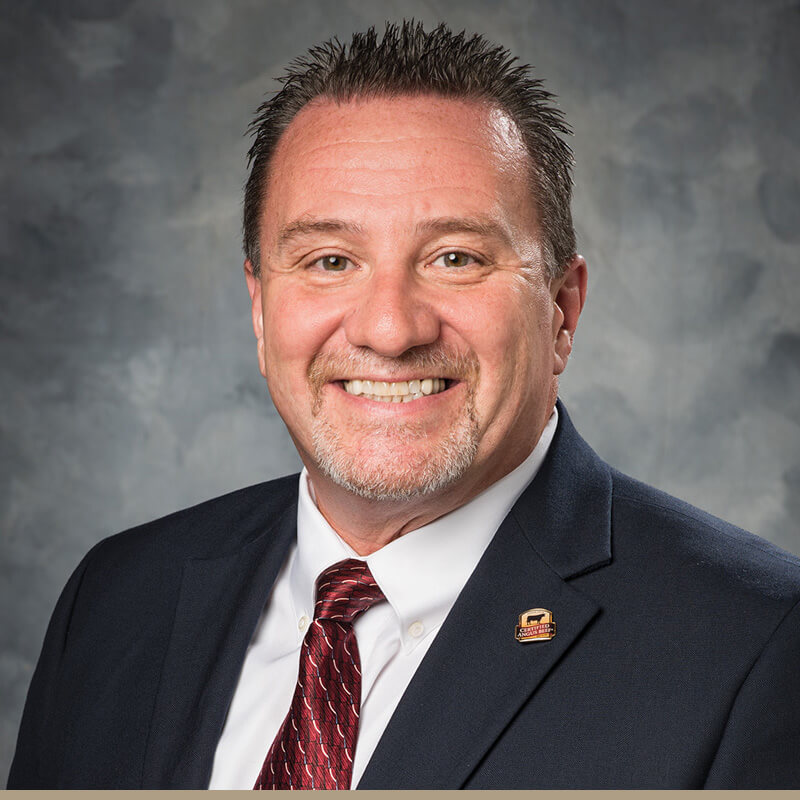 Mark Sykes
Executive Account Manager, Southwest
Certified since 2010
Mark is driven to increase sales and grow business by collaborating with his fellow teammates and partners, creating advertising initiatives, expanding brand exposure and navigating issues.
"It's a great day when I get to introduce the brand to potential new partners and discuss their opportunities with the best beef."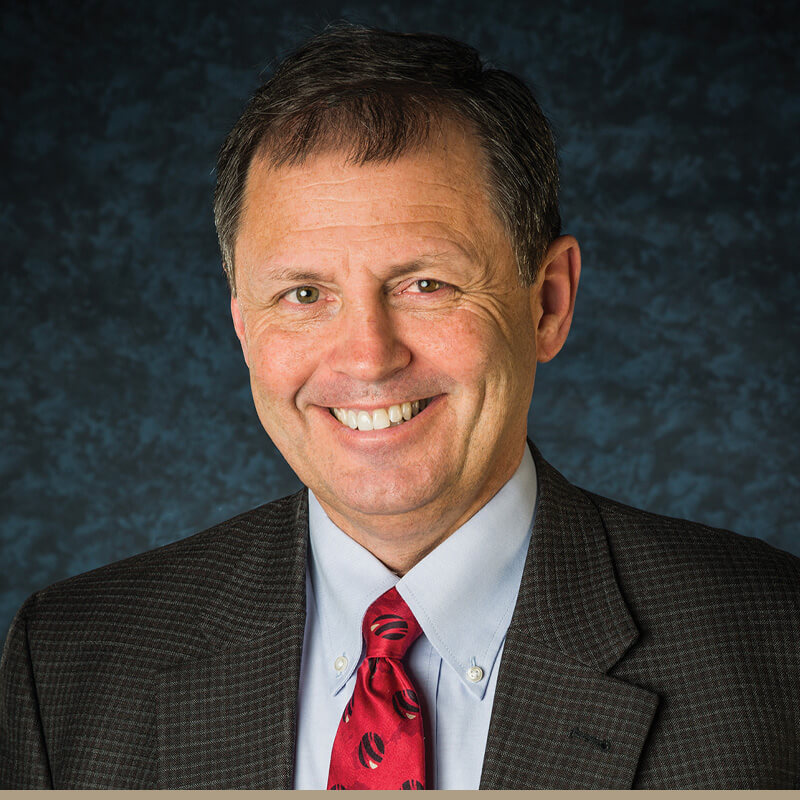 Randy Whittemore
Executive Account Manager, South
Certified since 2002
Randy puts education first when he's speaking with retailers and foodservice distributors. He cares about their business decisions and shares resources to help them make the best ones.
"For me, it's about taking the industry to a better place than when I found it. I want to pass along what I know to help others and the brand allows me to do that."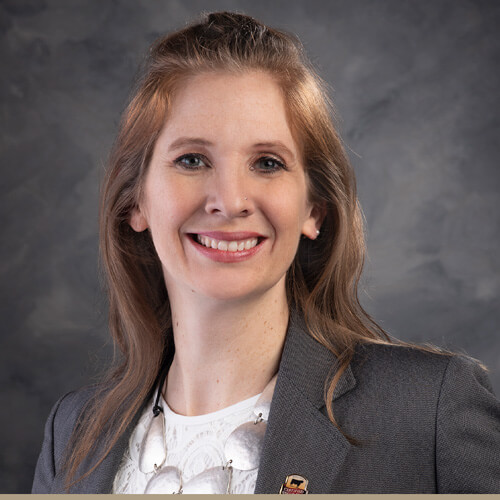 Laura Newberry-Yokley
Director, International & Multicultural Marketing
Certified since 2019
Laura fills the cultural strategist role, paying close attention to the cultural context and languages of each region to help move business forward.
"My motto is 'taking over the world one steak at a time.' So I love finding pockets of people in different parts of the world who love beef and speaking to them about it in their own language."